Crochet Supplies and Tools (for Beginners and Advanced)
Listing of useful tools, accessories and gadgets for your crochet hobby
If you are a beginning crocheter, just starting with your new hobby, you may be wondering exactly what tools and supplies you truly need, right?

There are tons of gadgets in the yarn realm (think Yarn Winder?) but do you actually need one?
Hint: If you are a true beginner crocheter, the only supplies you absolutely need to start out are some yarn, a matching crochet hook, scissors and maybe a pattern.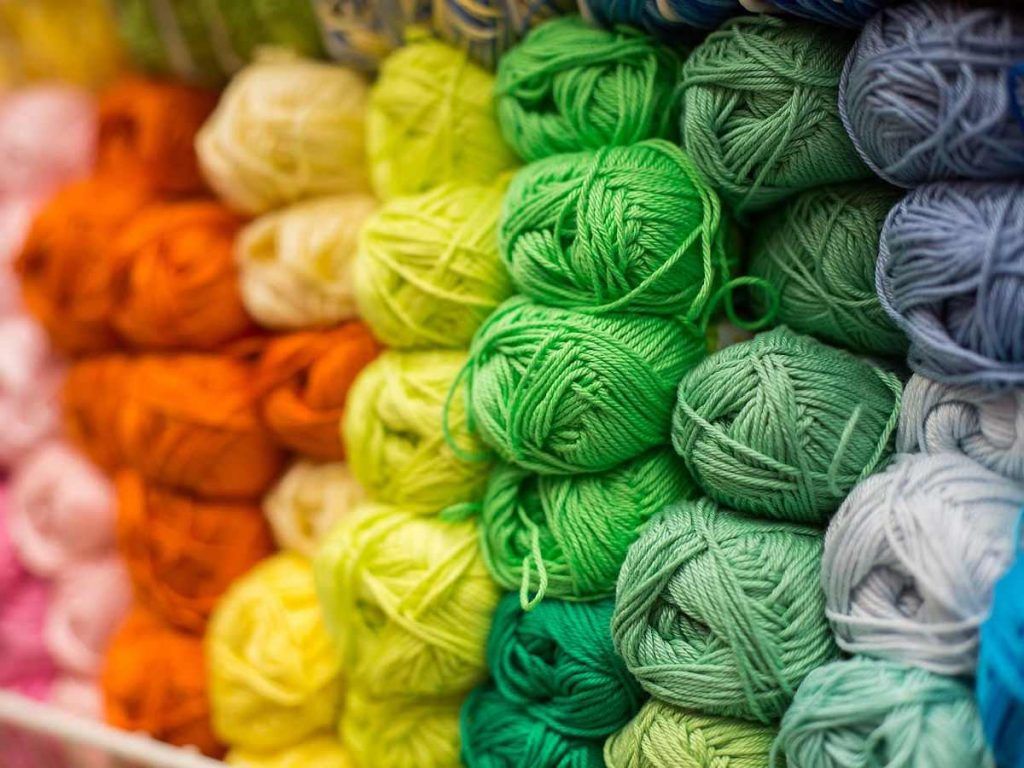 Disclosure: This page may contain affiliate links which means if you click and buy,
we may receive a small commission.
For most people, I would recommend that you just buy your crochet supplies as you need them.

So, for instance, pick your first pattern to make and buy the yarn and the crochet hook you need for that specific project. Then you do the same for the next pattern, maybe add some inexpensive stitch markers and so on.

On the other hand, if you know you will be serious about continuing this hobby or you happen to have the extra money, go ahead and buy up all the things at once, if you want.

You may find my Crochet Abbreviations list and Stitch tutorials helpful!
The items on this list are in order of importance. The essential crochet tools and supplies are at the beginning and the optional accessories and notions are toward the end.

As mentioned above, don't feel that you have to buy all of these items all at once. Everybody's needs are different, so only gather the things that you actually need. Over time, you will probably accumulate all kinds of useful and optional gadgets.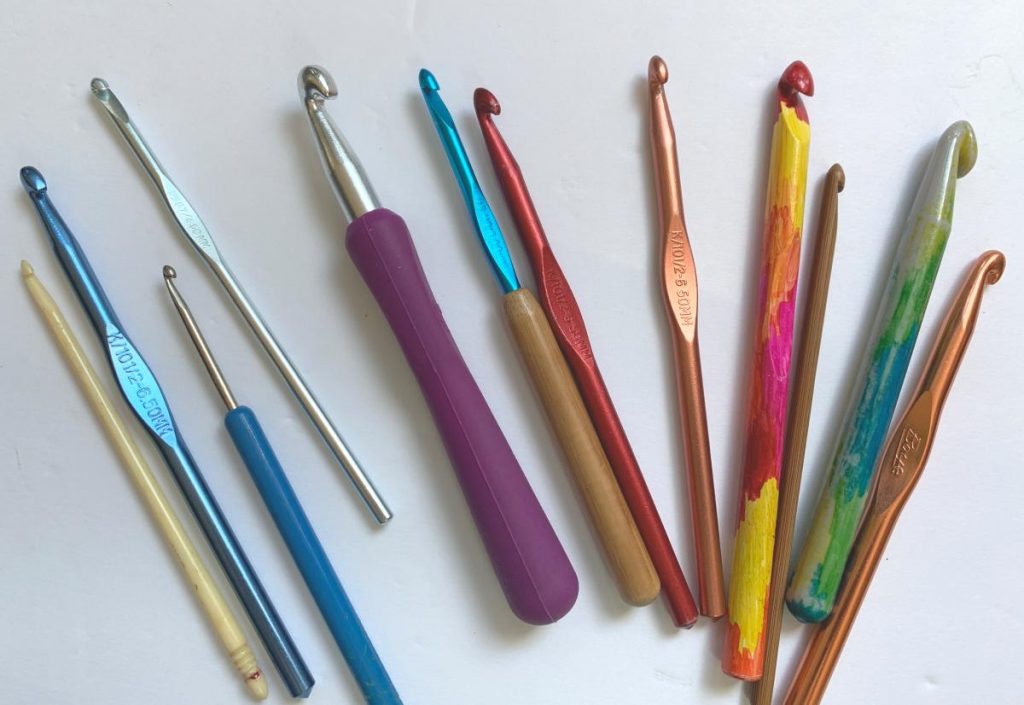 ---
Complete list of crochet supplies and tools:
---
---
---
---
---
---
---
---
---
---
And there you have my list of useful crochet supplies and tools for beginning to advanced crocheters.

If you have a favorite gadget or notion that I have not listed, I would love to hear about it. Just leave me a comment below.
Enjoy!

---
FAQ
What type of yarn is machine washable?
If washability is important, opt for synthetic and plant fibers or yarn marked "Superwash".
Note: Make sure and read the label for specific care instructions.

What is natural fiber yarn?
"Natural fibers" refers to fibers that are not manufactured or man-made. These include your animal aka protein fibers (sheep wool, mohair, silk, alpaca, yak, etc.) as well as plant fibers (cotton, bamboo, linen, etc.)
What are the different yarn weights?
The 'weight' of the yarn refers to the thickness of the strand. This can range from "super fine" to "sport" to "dk" (double knit) to "worsted", "bulky" and so on. This chart shows you the various sizes as well as common applications.
Related Stitch Tutorial:
Related Patterns: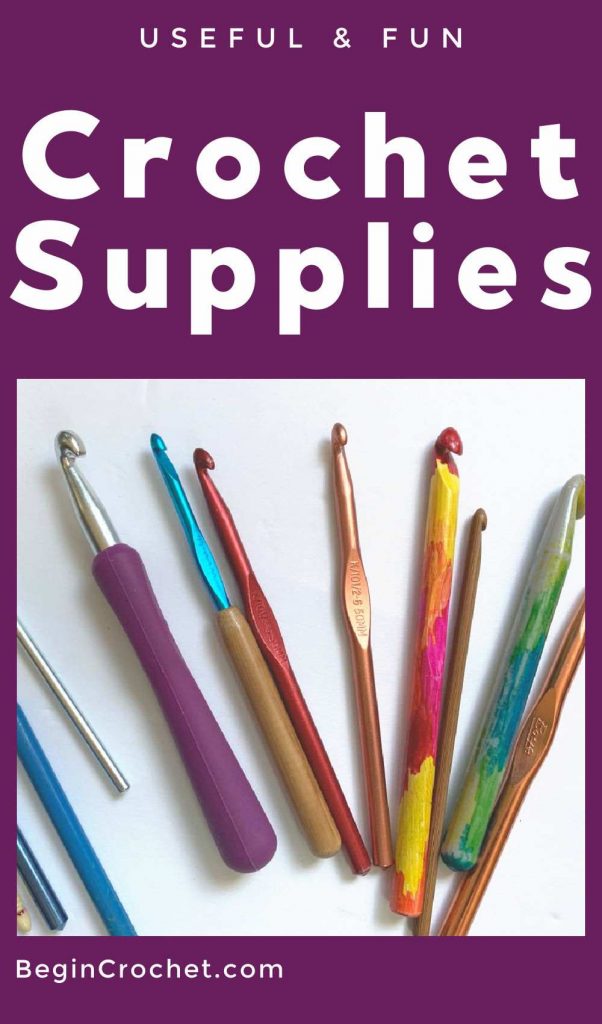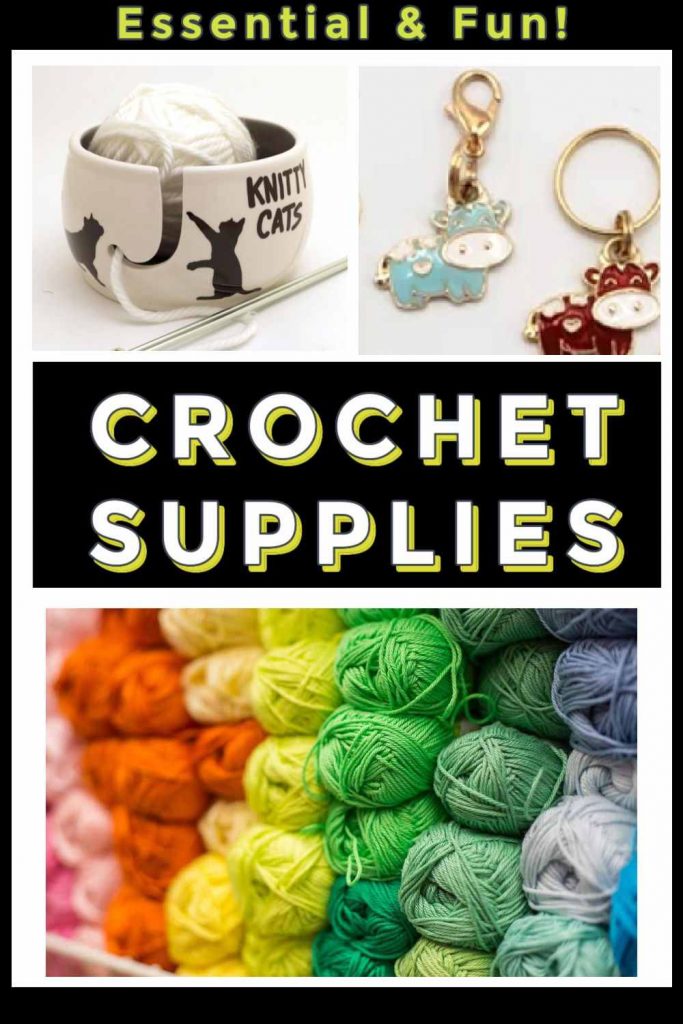 Crochet Supplies and Tools (for Beginners and Advanced)