14 Baby Crochet Headband Patterns (Beginner Friendly)
Sweet, simple and super fast crochet patterns! Here are Baby Crochet Headband Patterns. 14 easy and free baby headbands crochet patterns for infants and newborns with flowers, bows and more.
What's not to love about a sweet baby headband? Not only do they make a lovely accessory for your little one, but they are super quick to make. You can crochet up a whole bunch of them in a weekend.

Crochet headbands also make a perfect handmade baby shower gift. Not only that but add a sweet pair of matching booties or a blanket and you have a super special gift that any new Mom and Dad will treasure forever.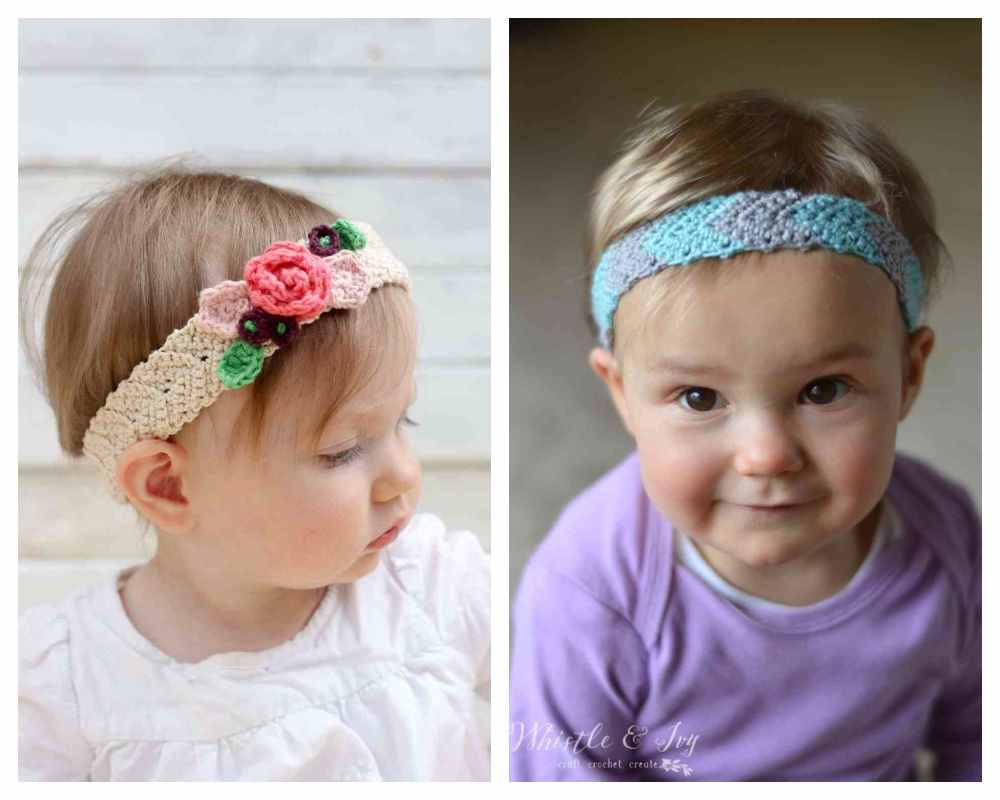 Disclosure: This page may contain affiliate links which means if you click and buy,
we may receive a small commission.
If you are a beginner crocheter, just starting to learn the stitches, childrens' headbands are a great place to start.

Not only do these patterns give you a chance to practice different stitches but they work up super fast, giving you quick gratification and confidence to try a more difficult crochet pattern.

Plus, as I said above, handmade baby items like baby hats and booties or sandals make a wonderful, personal baby shower gift, christening present or welcome gift for brand new parents. You can even match them to a flower girl dress for an extra special wedding touch.
You can also pair your baby headband with some matching crochet Babies Booties!
Are headbands safe for babies?
As with any other items for your infant, your baby should never be left unattended with a headband, whether it is crocheted, knitted or sewn.

A headband can slip and create a choking or strangling hazard, therefore it is imperative that you monitor your baby whenever he or she is wearing one.

Also make sure to remove the headband and any other accessories before placing your baby in the crib.
Useful crochet supplies
I am super excited to bring you these sweet headband patterns and would like to say a big THANK YOU to the creative pattern designers for allowing me to share them with you.

Please, give these projects a try and let me know how you like them!
Enjoy!
Annette
List of newborn and infant headband patterns
Crochet Flower Headband Pattern
Oh so sweet! This little headband features little flowers and leaves and would make the perfect accessory for a flower girl in your wedding!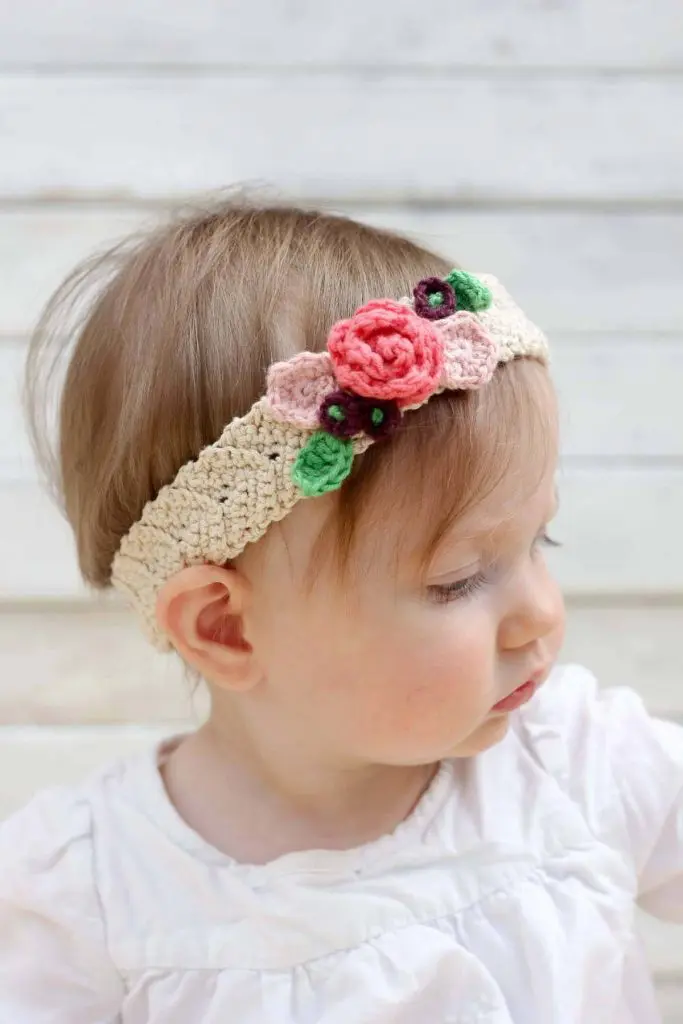 How do you crochet a stretchy baby headband?
To make your headband stretchy or elastic, you will want your stitches to create what is called 'Ribbing'. There are a few different ways of doing this but basically you are alternating your stitches, front to back.
For example, let's say you have a row of double crochet stitches and the next row will begin the ribbing also using double crochet stitches.

So, instead of inserting the hook in the hole of the previous row, you will go behind the post of the DC stitch. The next stitch goes in front of the post and so on.

See this cool article for step by step instructions on how to make stretchy crochet ribbing.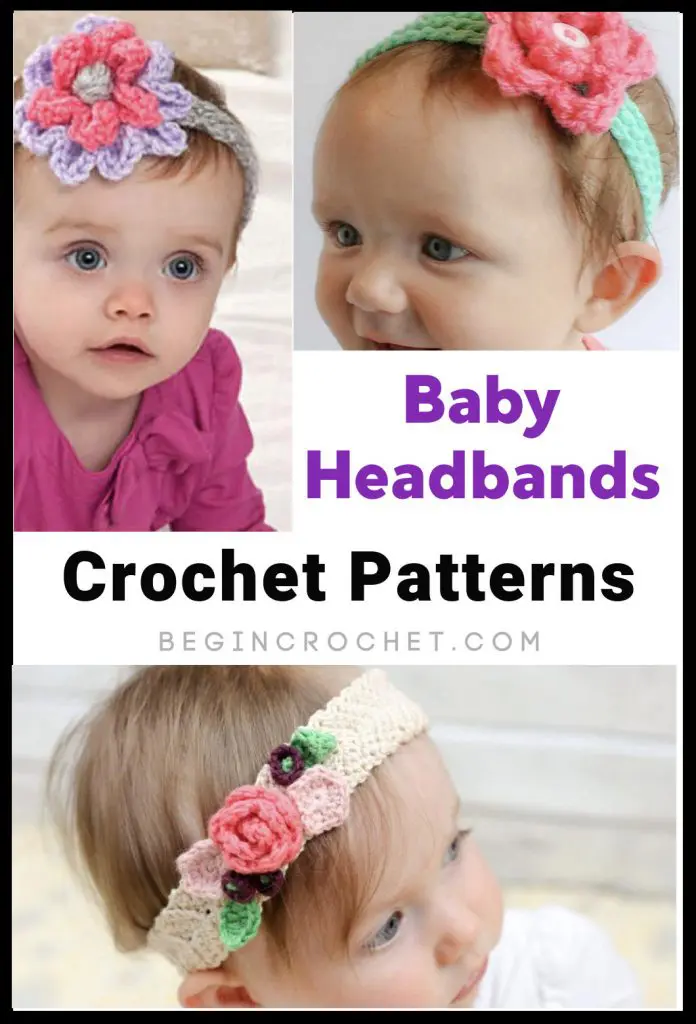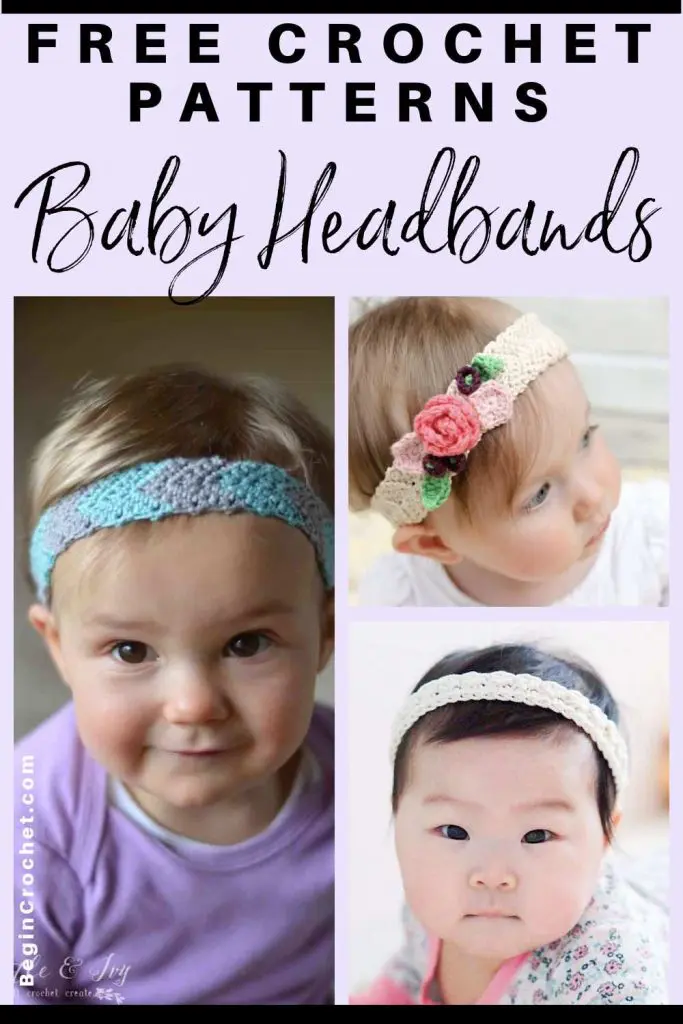 Baby Crochet Headband Patterns